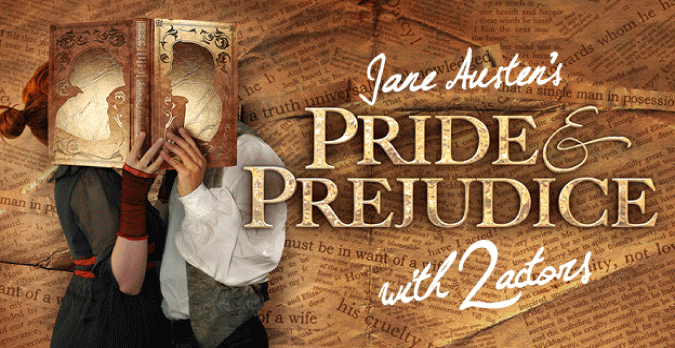 It is a truth universally acknowledged that Pride and Prejudice is the most famous of Jane Austen's books. Everyone knows of the romance between Elizabeth Bennett and her Mr Darcy, as it is a love story for the ages. Plus, I'm sure it helped that in the BBC adaptation Colin Firth came out of that lake in a wet white shirt.

I have loved Jane Austen's work since I saw the Pride and Prejudice film starring Keira Knightly back in 2006. Since then I've seen most adaptations, such as Lost in Austen which was supurb and clever, and Pride and Prejudice and Zombies, which had real potential but never seemed to really find it's feet in a messy clash of genres. However, nothing can really beat the cleverness and charm of the book itself. This play did give a very good attempt though.
The play was marvelous, simply put. It was clever, and both the actors (Joannah Tincey and Nick Underwood) were incredible at portraying the depth of the characters, slipping into each of the twenty or so roles seamlessly every few lines. The comedic timing was perfect, interspersing light moments into the more serious tones of the text.
This was the first play I've seen with two actors playing all the characters, so wasn't really sure what I was walking into. I had high hopes, obviously, but I had no idea the production would be so meticulous and professionally crafted. It was a lovely surprise, and I loved every minute of it. I will be keeping tabs of the two actors and their future projects, as they seem to have done a number of two actor adaptations in the past. So who knows what the next one will be, but if it comes to London chances are I'll be going to see it.
It has definitely made me fall in love with Austen all over again.