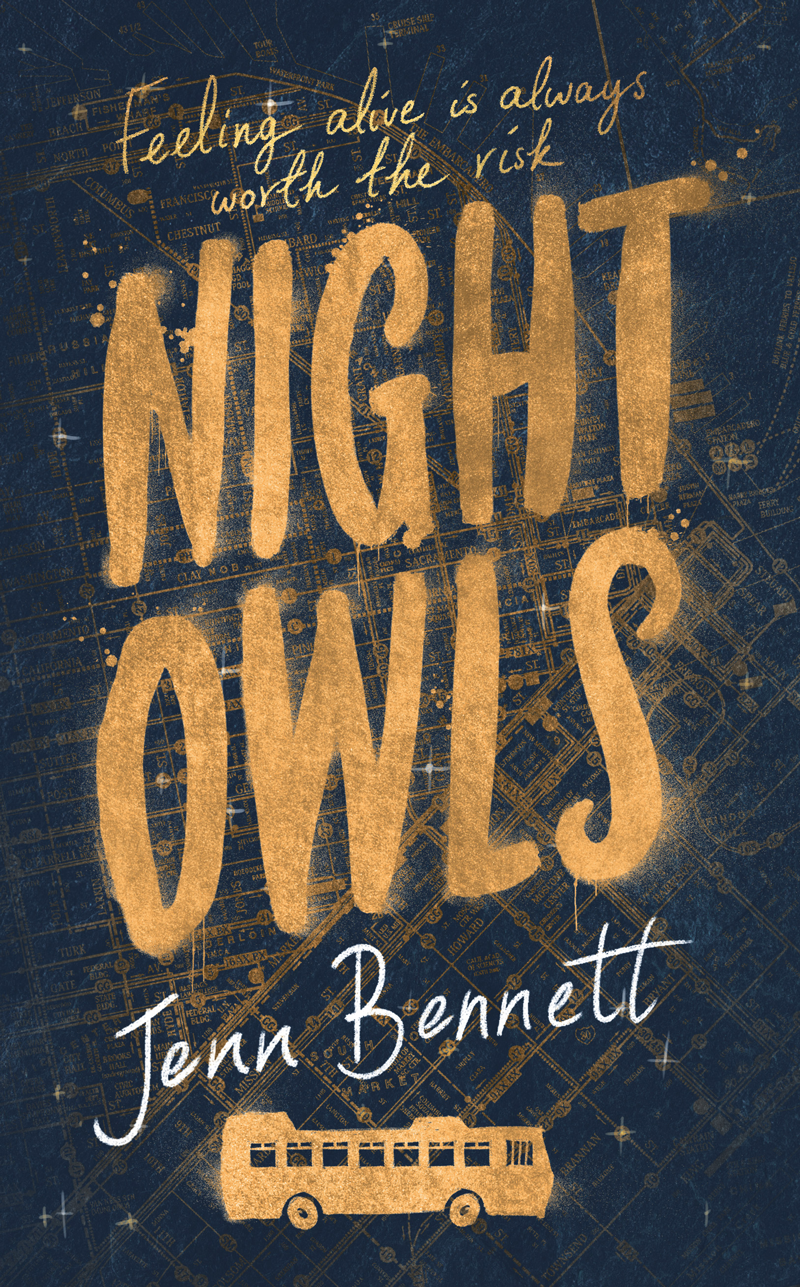 Night Owls by Jenn Bennett
Beatrix is an aspiring artist, and determined to follow in di Vinci's footsteps she decides to do something that will give her an edge in a museum-sponsored scholarship contest: drawing cadavers. When she sneaks her way into the hospital's Willed Body program and misses her bus home, she meets a boy who, of course, turns her plans upside down. The book follows their romance, as Beatrix grows to learn who Jack really is, under all that charm and tries to uncover what he's hiding. But will these secrets come back to haunt him? Or will the skeletons in Beatrix' own family's closest tear them apart? (from Goodreads).


The book sounds quite interesting, and I've been told the chemistry between Beatrix and Jack is electrifying, and it apparently tackles things in quite a grown-up way. So I have high hopes for this book.
Up until his diagnosis, Lane lived a fairly predictable life - but when he finds himself at Latham House he discovers an insular world with paradoxial rules, med sensors, and an eccentric yet utterly compelling confident named Sadie. (from Amazon).
This is a book friends have recommended to me, and I'm somewhat sceptical of what I'll find when it arrives. Schneider is grouped with authors like John Green, and I'm not that much of a fan of his books. I enjoy him as a person, and get what he's trying to do in his books, but I just don't enjoy them too much. However, I've been assured this is different; apparently darkly humorous, I will grow to love Lane and Sadie, who tell this story in alternating viewpoints. I've heard this book could be classed as 'dystopian minus the science fiction' which is rather intriguing. Plus, look at that cover.
The Heir (The Selection #4) by Kiera Cass
Eighteen years ago, America Singer entered the Selection and won Prince Maxon's heart. Now the time has come for Princess Eadlyn to hold a Selection of her own. Eadlyn doesn't expect her Selection to be anything like her parents' fairy-tale love story...but as the competition begins, she may discover that finding her own happily ever after isn't as impossible as she's always thought.
(from Amazon).
I'm buying this because I recently read the first three books in this series, and fell in love with the world. Maxon is such a wonderful character, and America was a good protagonist (when she wasn't being a whiny bitch). I've been warned this isn't really worth the read, as Eadlyn is even more whiny than America was, but I've come this far and I think it deserves a chance. Even if I dislike it, at least it gives me more Maxon.
The Assassin's Blade by Sarah J. Maas
Celaena Sardothien is Adarlan's most feared assassin. As part of the Assassin's Guild, her allegiance is to her master, Arobynn Hamel, yet Celaena listens to no one and trusts only her fellow killer-for-hire, Sam. In these action-packed novellas - together in one edition for the first time - Celaena embarks on five daring missions. They take her from remote islands to hostile deserts, where she fights to liberate slaves and seeks to avenge the tyrannous. But she is acting against Arobynn's orders and could suffer an unimaginable punishment for such treachery. Will Celaena ever be truly free? (from Goodreads).
I do adore the Throne of Glass series, and eagerly look forward to learning more about Celeana's past before we first met her in the mines. Sam is a character frequently mentioned throughout the series, and I'm glad we get the chance to get to know the kind of guy Celeana first entrusted her heart to.
A Court of Thorns and Roses by Sarah J. Maas
Feyre's survival rests upon her ability to hunt and kill - the forest where she lives is a cold, bleak place in the long winter months. So when she spots a deer in the forest being pursued by a wolf, she can't resist fighting it for the flesh. But to do so, she must kill the predator and killing something so precious comes at a price ...
Dragged to a magical kingdom for the murder of a faerie, Feyre discovers that her captor, his face obscured by a jewelled mask, is hiding far more than his piercing green eyes would suggest. Feyre's presence at the court is closely guarded, and as she begins to learn why, her feelings for him turn from hostility to passion and the faerie lands become an even more dangerous place. Feyre must fight to break an ancient curse, or she will lose him forever. (from Amazon).
Another Sarah J. Maas book on my list, because this sounds awesome: a re-telling of Beauty and the Beast, with a much more badass protagonist. Sarah J. Maas and fairy tales - what could go wrong?
Rook by Sharon Cameron
History has a way of repeating itself. In the Sunken City that was once Paris, all who oppose the new revolution are being put to the blade. Except for those who disappear from their prison cells, a red-tipped rook feather left in their place. Is the mysterious Red Rook a savior of the innocent or a criminal?
Meanwhile, across the sea in the Commonwealth, Sophia Bellamy's arranged marriage to the wealthy René Hasard is the last chance to save her family from ruin. But when the search for the Red Rook comes straight to her doorstep, Sophia discovers that her fiancé is not all he seems. Which is only fair, because neither is she.

As the Red Rook grows bolder and the stakes grow higher, Sophia and René find themselves locked in a tantalizing game of cat and mouse. (from Goodreads).
Now I've heard mixed things about this book, some criticizing it for being boring and obvious, but I'm going to give it a chance regardless. All because the Scarlet Pimpernel is one of my favourite books and movies, and this book is a clear homage to Sir Percy's legacy.