Tim is in a custody battle with his ex-wife, when he quits his job. He applies for a job as a civil servant doing data entry, but discovers during the job interview that he has been offered a job as a trainee spy for MI5.
(from IMDb)
I recently got the second series of Spy for Christmas, so I decided to re-watch all the episodes from series 1 to really remember everything I loved about this show and have a basis for comparison for series 2. Series 2 of any series can improve or destroy a series, I usually find, and I didn't have high hopes for this show. I was right to have those doubts, but I'll explain as I go through. I'll state right now I prefer series 1.
The premise of this show is interesting and clever; a every man accidentally gets a job as a spy. Series 1 focuses on Tim (Darren Boyd) finding his feet within MI5, finally feeling like he's doing something important with his life, and trying to win custody of his son Marcus (Jude Wright). Throw in some antics and misunderstandings, along with interesting characters such as his best friend Chris, who strives to do nothing even when at work, Tim's eccentric boss The Examiner, his controlling ex-wife Judith and her puppy-like boyfriend Philip and an insane social worker who believed she and Tim were involved in a forbidden love affair.The entire show is absolutely ridiculous, but that's the fun of it. It plays with what you expect from the spy genre.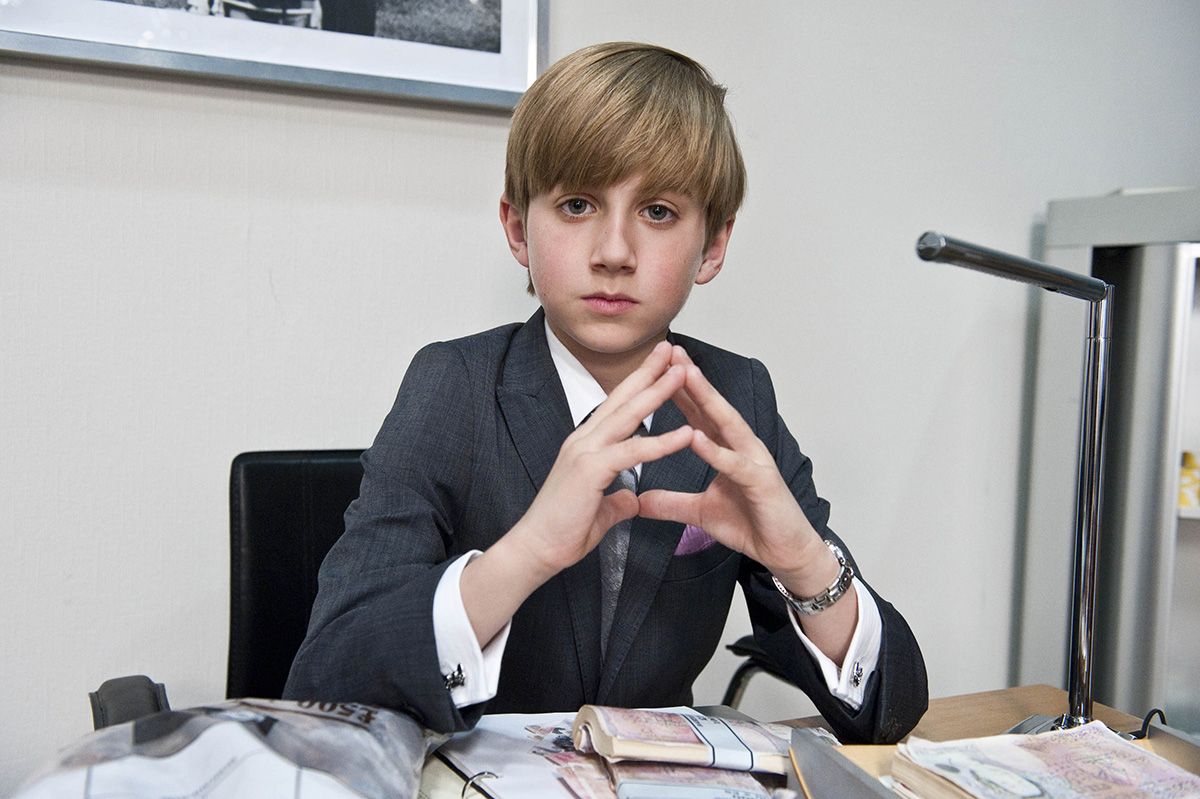 By far, my favourite character is Marcus, Tim's ten and a half year old son. Marcus is eleven coming on fifty and between him and his dad, he would be the grown up. Marcus has a very dry sense of humour and is very brilliant, so frequently calls Tim out on topics he is far more knowledgeable about such as stocks or politics. He is generally a know-it-all and occasionally described as the devil, which Tim agrees with. In real life, I'm not sure if I would get along with Marcus but I do enjoy his story arcs. In series 1, at least.
The tone of the show changes for series 2 and becomes more serious. I loved how playful series 1 was, but series 2 was written for a more mature audience in mind, I think. While I did enjoy most of series 2, it wasn't as amusing as series 1. There were no moments that had me in stitches or anything that particularly stood out to me as great TV.
I disliked Marcus' story arc in series 2 where he lost his best friend Justine to the new boy Nick, who quickly became his nemesis is all areas at school. It mirrored Tim's own romantic struggles with Caitlin, the beautiful spy he works with, and the return of her presumed-dead fiance, Portis. In that respect, it was interesting, but it meant no matter where I turned I was bombarded with angst-riddled and cliche love stories that I didn't want.
I did enjoy the resolution between Tim and Caitlin at the end of series 2. Finally, she realised Portis wasn't the man for her and broke up with him to pursue a relationship with Tim, who was the one she was actually in love with. However, I didn't like how Marcus and Justine's storyline was resolved - they became friends again and then a minute later she informed him she was moving away and that was the last we saw of her character. Marcus and Justine had been so sweet together and a perfect match in every way, so it was sad to see her go.
A character I wouldn't have minded seeing go would have been is Owen, the social worker in series 2. Series 1 ended with the previous social worker, Paula, revealing the extent of her obsession with Tim at a custody hearing by showing the tattoo she had done of Tim's face. The judge ruled a new social worker would be assigned to assess the Elliot family and, understandably, that was the last of Paula. So we got Owen. Owen is supposed to amuse us with his apparently-amusing incompetence as a social worker, but there was something so tedious about him. Perhaps it was because he develops a thing for Judith, and we already saw the same storyline with Paula and Tim the series previous. Or perhaps it was because his appearance marked a bigger focus on Judith and Philip, who were much better as amusing side characters in Tim and Marcus' lives.
Overall, it is a very enjoyable and easy-to-watch TV series that will make you laugh. Despite everything I disliked about series 2, it was still interesting and occasionally very funny. I would definitely recommend a watch and I'd welcome any opinions about which series you found better.