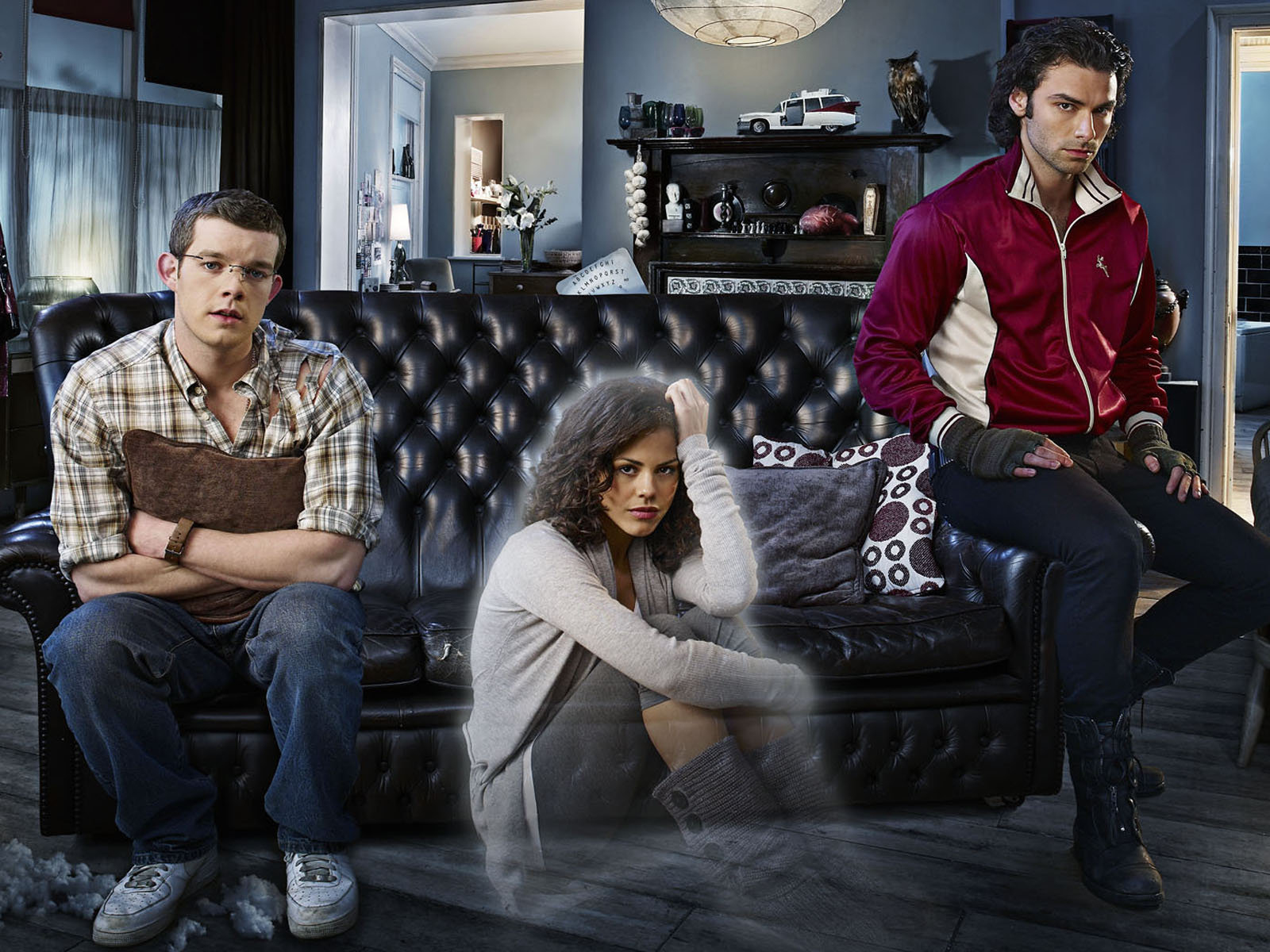 A werewolf, a vampire and a ghost try to live together and get along as they try to be human (from IMDb).
Being Human was a great BBC3 show, but it sort of felt like two different shows. It pretty much falls into the 'Mitchell and George' era, and the 'Hal and Tom' era. Both very good in their own right, but the first three seasons felt so much darker in tone than the last two.
Series 1-3 follows the lives of vampire Mitchell (Aiden Turner, long before his Poldark fame), werewolf George (Russell Tovey) and ghost Annie (Lenora Crichlow) as they live together in Bristol and try their best to blend in to normal society, so as to avoid detection and supernatural threats. Mitchell and George, despite the bad blood between werewolves and vampires, are the best of friends, working at the local hospital in mundane jobs. They met Annie when they moved into the house she was murdered in, and she is very excited to finally meet people who can see her. Mixed into all this drama is the problems they each face due to their supernatural condition; Mitchell is trying to suppress his craving for blood, George is trying to get a hold on his monthly transformation and Annie is trying to figure out how she actually died and making peace with actually being a ghost.
As I said, some of the themes are very dark indeed, and there is lots of death. Mostly caused by Mitchell, who is a sweetheart when he is in control of himself. At more than a hundred years old, he is very much a lost soul trying to find a way to live again, rather than just go through the motions. His friendships with Annie and George are really rather sweet, as George encourages him to always be a better person, and Annie is a woman he could spend his life with and not have to turn her into a monster to do it.
George met Nina, a nurse at the hospital he works at, and fell deeply in love for the first time in a long time. Nina made him want to be a better person, to gain control of the werewolf inside him. At first, she thought he was an idiot but grew to care for him deeply too. He then accidentally turned her into a werewolf, and she becomes part of the gang. George and Nina were rather sweet together, but I just felt Nina was a little boring from time to time.
Herrick (Jason Watkins) is the overarching bad guy for series 1, and his exit causes even more problems than him being one of the undead ever managed. He and Mitchell have a past, back when Mitchell was far less in control of his bloodlust. Herrick is interested in seducing Mitchell back to the dark side, and is fascinated by Mitchell's attempts to live among the humans. As a villain, he was excellent because he was rather terrifying, but rather unassuming. That's the true test of a psychopath.
By the end of series 3, I think the story had gone as far as it could with Mitchell as a main character. I was very sad to see him go, but Aiden Turner was looking to make a change in his career and it was time for him to go. His arc reached an end, and he was given closure with his friends, and his relationship with Annie, which I appreciated.
And then came the cast change up in series 4, and with it the entire feel of the show shifted. It was now less about trying to be human, and more about three supernaturals now saving the world. The stakes were raised so much more than in the other series, but somehow it all just felt lighter. In a way it was funnier. By the end of series 4 episode 1, Annie was the only one left from the original series, as Nina was killed off before the episode even began and George died protecting his newborn daughter, Eve. Eve played a big part in series 4, as she was born to be the savior of the world, and was destined to crush the Old Ones, a very ancient faction of vampires who wanted to enslave humanity. With this new prophecy, we also meet the new lead cast members: a young werewolf named Tom, who was introduced in series 3, and Hal, a very ancient vampire with even more issues than Mitchell did.
Hal is a fascinating character, and I found him rather charming. Unlike Mitchell, who had good days and bad days, Hal is always just a bit of a mess.
I loved his interactions with Annie, Eve and particularly Tom. He might have been a murderous psychopath like Herrick once upon a time, but now he is just this fragile guy making friends despite not wanting them. He and Tom grow to be best friends, and their dynamic is just great. Annie felt a little disjointed from them, but that's because she belonged with the original cast. As much as I loved her character, it didn't feel right trying to make her fit in with these new characters.
The end of the Eve-arc felt right, and it gave Annie the perfect time to leave. She finally made her peace, and was able to move on and join her friends in the afterlife. I hope she and Mitchell had a very happy life together.
Series 5 saw Annie replaced with Alex, a woman recently killed because of her connection to Hal. Alex was an okay character, but I didn't like her too much. It might be that she just wasn't Annie, or that she was annoying, I can't really tell. I can tell you she whines a lot. Hal and Tom still had the same fantastic chemistry, now having made their peace with the fact they're best friends.
The introduction of Captain Hatch as our villain this season wasn't that great. He wasn't like Herrick, at all. He wasn't charming or interesting as a character; he was just super creepy. The series wasn't that strong in itself, to be honest, as I think the writers started to forget what the message of the show had been. I did enjoy a lot of the humour, though. By itself, it was a good arc; just not as strong as some of the others. The character of Dominic Rook was a most better character than Hatch; just as mysterious, but far less upsetting to watch. I would have preferred Rook as a villain, as he never believed he was the bad guy but so easily could have been. Something a bit more unders
tated, for such a clever show.
And that ending was just...bad. Really, really disappointing actually. It didn't fit with the show at all, and I was left just feeling confused. Why couldn't they have just wrapped it up better? Being Human deserved a proper send off. When I saw the alternate ending, which you can watch on YouTube, where Hal, Tom and Alex sit in a restaurant and discuss how their new human lives seem far too perfect, it's revealed this is all just a dream, a way for Patch to keep them from the real world which he is no doubt destroying as they speak. They begin to prepare for another fight, to save the world one last time, and that seems like how things should have ended. So I prefer to see that alternate ending as the real ending.
The show had its ups and downs over the years, good stories and bad ones, but overall it was a rather fascinating something to watch. BBC3 does make some excellent shows, and this is definitely one of them. An American Being Human was made, which I attempted to watch and thought was shit, so I wouldn't really recommend that one. Watch this one instead.