So, after much anticipation and excitement on my end, Shadowhunters premiered at the beginning of January, and is airing every week on Netflix. My 'Halfway There TV' reviews will be giving some insight into my opinions of ongoing shows, whether or not I'm enjoying it, and what I want to see the rest of the season, if I'm going to bother watching it at all.


What I Like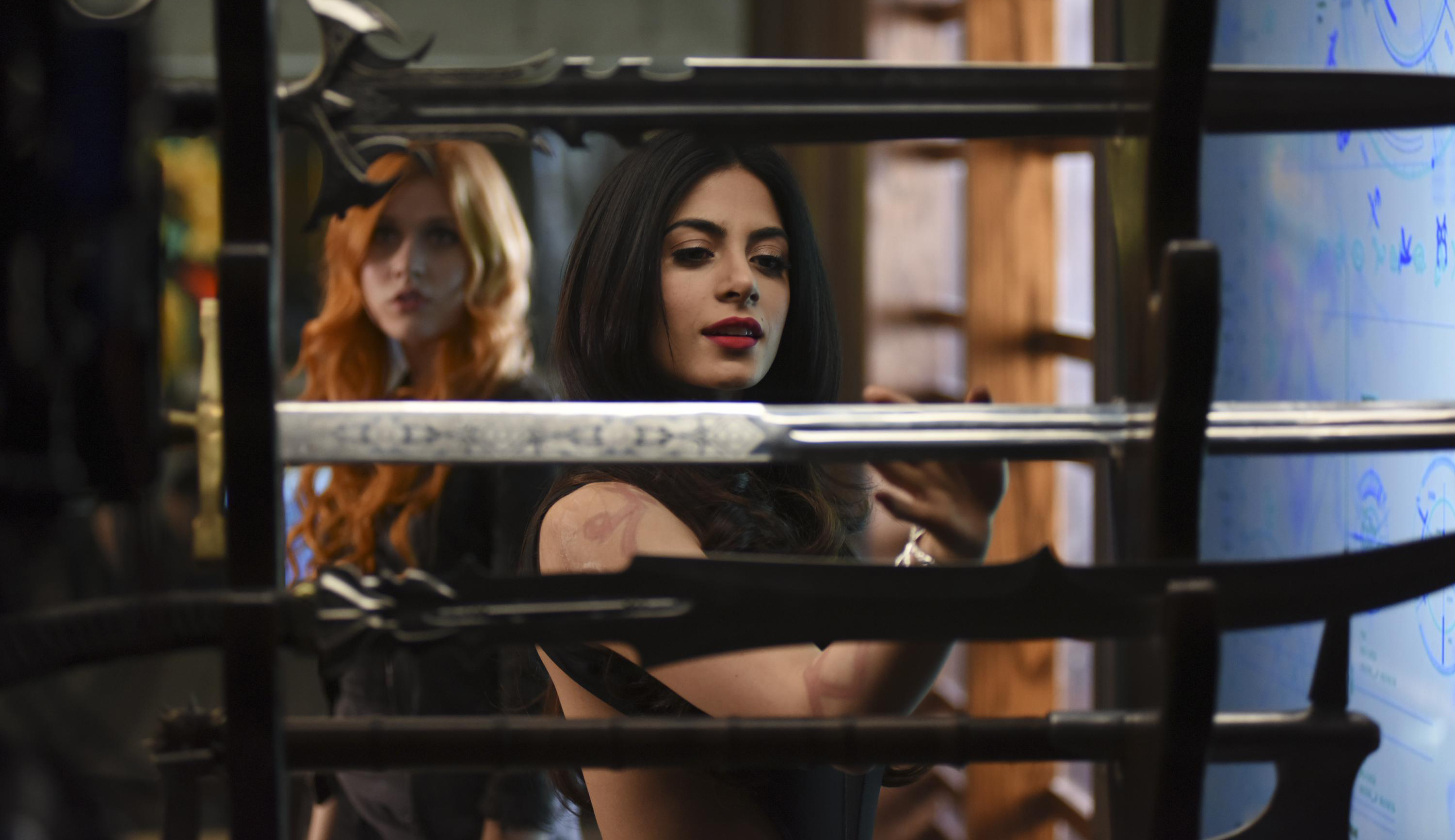 Isabelle Lightwood is so badass, and I love it. Emeraude Toubia does a great job portraying the seductive, playful Isabelle, and I'm glad she comes across she has a personality in Shadowhunters, cause she just seemed so gruff in the City of Bones movie. In the first book, Isabelle is supposed to be sixteen, and while she doesn't come across that age in the show what Toubia does bring to the character is that fearless mentality of a teenage rebel. Her dynamic and chemistry with every other character is flawless, and shows different sides of her character when interacting with each of them. With Alec and Jace, they are her brothers and she would kill anyone to protect them. With Clary, she's found something like a friend, but in a way Clary is also a new toy for her. That's just the kind of person Isabelle is, and I'm glad that hasn't been lost in transition.
Magnus Bane has long been one of my favourite characters in YA fiction, purely because you can always count on him to be a snarky little bitch. Harry Shum Jr plays him so well, portraying just the right amount of sass and cunning, all whilst looking fabulous. He is such a rounded characters in the books, with a long and fascinating history and origin story. Every time he's on screen, I just smile. And when he's on screen with Alec...there aren't words. As I said previously in my Shadowhunters anticipation post a couple of months back, the pairing of Malec is one of my all-time YA favourites, so looking forward to seeing that progress cause things finally started moving in episode four. The first time they met, the way Alec looked at him...was just perfect.
I'm so glad Jace is portrayed right in Shadowhunters. In the movie City of Bones they really missed the mark with his character, making him too serious. That moment in the movie where he freaks the fuck out after he kisses Clary and then gets jealous about Simon just makes me cringe. If he had laughed off his words, I would have believed that. Because that's Jace, and his defense mechanism is to just pretend things aren't wrong. He doesn't like to show he's hurting. In Shadowhunters you can feel that strength, that barrier around his heart. Dominic Cooper is so right for the role, and he plays so well beside Matthew Daddario, who is again perfectly cast. For the most part, the majority of the main cast I am very happy with. It's just Clary.
What I Hate
I hate Clary. I've always hated Clary, that's not a new phenomenon. I was sort of hoping I would connect with her in this series. For all its faults, the City of Bones movie did start making leeway in that respect. But Katherine McNamara has crushed all hope for that with her over-the-top portrayal. I'm saddened to say I just don't think McNamara can act, period. And the central character of a TV show that can't act doesn't give me hope for the future of the show. It's such a shame as well, because the rest of the main cast is superb.
Why is Magus, one of the main characters, barely in this half of the season? It is such a waste, and they really need to get a move on with his and Alec's story line. This is exactly what I mean about the show being so slow. It's trying to be dramatic, but at the cost of being interesting.
Simon's transition into becoming a vampire was never something I cared too much about in the books, because he wasn't one of my favourites. But there are times when he can be charming in this show. He's not overly attractive like Jace, doesn't have that same raw confidence, but there's something sweet. Or at least there is when he's not being a whiny bitch. And unfortunately he's like that so much of the time on the show. His transition started all the way back in episode 2, and we've just hit episode 7 and we've still gotten nowhere. He's still battling with his humanity and it's so pointless to waste him. He is Clary's best friend and could be utilised in such a better way than this.
Valentine is such a lackluster villain, but why? He's a psychopath and someone the writers really could have done something with. But he just seems like every other villain with a plan to take over the world. Showing him stabbing a faerie or two doesn't cement him as the bad guy, not in my books. That's not enough. If anything, Maryse Lightwood's brief appearance in episode five inspires more fear in my heart than Valentine has the past five episodes.
It seems no one can adapt these books to the standard they deserve, the final product always missing the magic. Shadowhunters just seems a little empty at times, too over-acted and slow. Slow is most definitely the word I'd use for this show. We unfortunately never seem to get anywhere in the first three episodes, and the plot finally starts moving forward in episode four, but only a little. The story lines from the first four episodes could have been condensed into two, and it would have kept things flowing a lot better. At times, the show is just so dull I just skip the scene.
What I Want to See in Episodes 8-13
I want to start seeing some real progress in the plot. I want things to be kicked up about six notches and for the writers to stop wasting time building this world, teasing us about what could happen in the future and just get on with it. There is so much potential here, I know there is and I can see they know it too, so why are they dragging it out? It's only going to get them cancelled, and then we won't get to see what they're planning anyway.
I want to see more Shadowhunter fight scenes. Fighting demons is a key part of being a Shadowhunter, and while there are moments where Alec, Isabelle and Jace use their skills, a lot of the time they're just talking or the story is in another emotional moment. That introduction to our Shadowhunters in Pandemonium, where they kicked some serious vampire ass, was great. Alec and Isabelle distracting the vampires so Jace and Clary could save Simon was perfect. I want more of that. I don't want Isabelle sad and wanting to please her mother.
And finally, I want more Magnus. He better be in every episode for the rest of the season. It's not too much to ask, is it? He would make a great addition to the team. With the arrival of Lydia Branwell in next week's episode, a character not in the books so not sure what to expect with her character, it seems like her presence sets things in motion for Alec.
All in all, it's not too bad. There are so many redeeming things about it, but those things won't placate me forever if the writers continue to drag everything out and keep things so dull. I will continue to watch Shadowhunters, but it does need to get its shit together and quick with only a few episodes left.