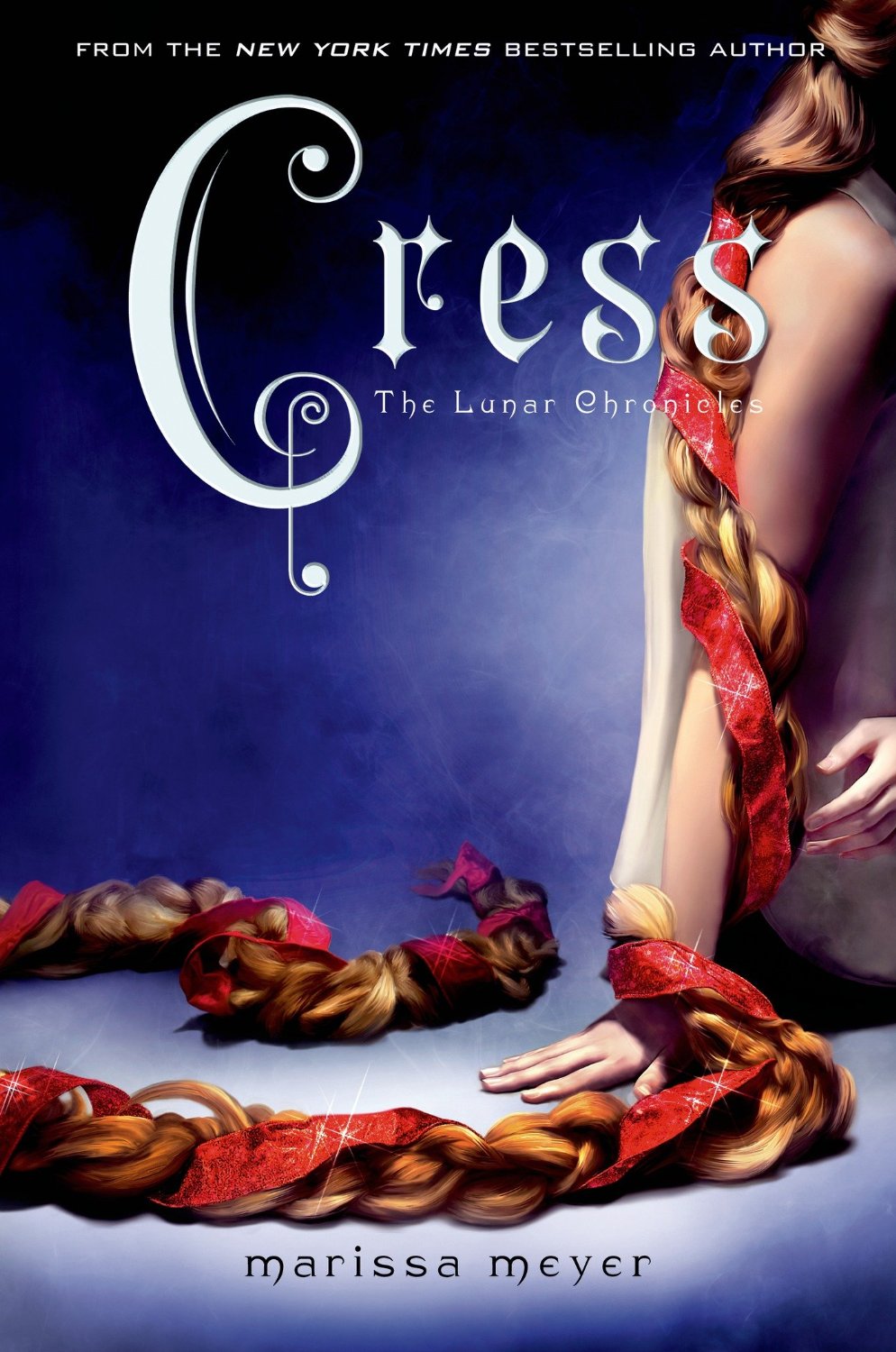 Even in the future, there are damsels in distress...
Cress, having risked everything to warn Cinder of Queen Levana's evil plan, has a slight problem. She's been imprisoned on a stellite since childhood and has only ever had her netscreens as company. All that screen time has made Cress a great hacker. Unfortunately, she's just received orders from Levana to track down Cinder and her handsome accomplice.
When a daring rescue of Cress goes awry, Cinder and her new group of friends are separated. Cress finally has her freedom, but it comes at a high price. Meanwhile, Levana will let nothing prevent her marriage to Emperor Kai. Cress, Scarlet and Cinder may not have signed up to save the world, but they may be the only hope it has.



*There are spoilers ahead, so be warned*


Book Three in the series jumps a few months down the line, when our heroes from Scarlet are still on the run. Cinder has thrown herself into her training with Wolf, having now decided to face who she is and reclaim what was stolen from her all those years ago, and Levana has upped her attempts of tracking Cinder down. She has set her best hacker on the task - our new heroine, Cress.
Cress has grown up in solitude on a satellite, her only company being her computers. A Shell (a Lunar without any abilities) she was given to the Queen when she was a baby to be killed, as Shells were thought to be very dangerous. That's what she's been told, anyway. Since then, she has been raised to be useful to the Crown. Her use in Cress is to find Cinder and her new friends, track their ship and report her findings to her superior so that Levana can deal with the problem.
However, Cress is keeping secrets of her own; she has found them already, has been helping Cinder all this time. We first met Cress, though briefly, all the way back in book one where she warned Cinder that Levana was not to be trusted. Cress has been hiding their ship from detection, researching their crew and has fallen in love with Thorne. Can't blame her, really.
When their worlds collide, Cinder and her crew set out to rescue the young girl who has protected them for so long. That's when things get shaken up, as their rescue attempt goes rather poorly when Cress' captor Sybil Mara turns up unexpectedly. Cress and Thorne get separated from the rest of the group, Cinder half-kidnaps Jacin, a Lunar royal guard and Sybil's pilot, and Sybil takes Scarlet. The entire thing is a bit of a mess, but it was a necessary step to get the story moving again and start upping the stacks now the royal wedding between Kai and Levana is approaching. Scarlet being a prisoner on Lunar allows to see things from their world, and begins moving the stage from the predominantly Earth-based settings from the first two books.
I liked this book, and it did start really moving things forward in quite an interesting way. We got to see more of Cinder and Thorne, two characters I feel are very strong, and we get to see some of Wolf without Scarlet as a crutch. He does grow on me, as does Scarlet surprisingly but I could have done without her. I do have to admit Wolf and Scarlet are cute though.
Cress is a strange new character. She is very gifted, but she is so broken from a life of solitude. Weak but strong when she needs to be. It's a weird combination, but I really did like her. Her crush on Thorne is rather endearing, because I can definitely relate to creating an idea of a perfect guy and struggling to come to terms with the idea he may not be the knight in shining armour I hoped he was. Their interactions are sweet, and I do hope that grows into something in Winter properly.
The two characters we get glimpses at who are going to be important for Winter is Jacin and the Princess Winter herself. Jacin seemed snarky and cunning, doing whatever it takes and betraying whoever he has to, in order to return to Lunar, return to his Princess' side. I could grow to like him, as he does have potential. Winter is briefly introduced through Scarlet's chapters, and she seems crazy but an pretty intriguing character all the same. Can't wait to get to know her better.
By the end of the book, Cinder and her crew (bar Scarlet) have kidnapped Kai from the royal wedding, and they have united in their plan to overthrow Levana and take the Lunar throne. There is a lot at stake now, and I hope Winter can really deliver on the revolution this creative series deserves.