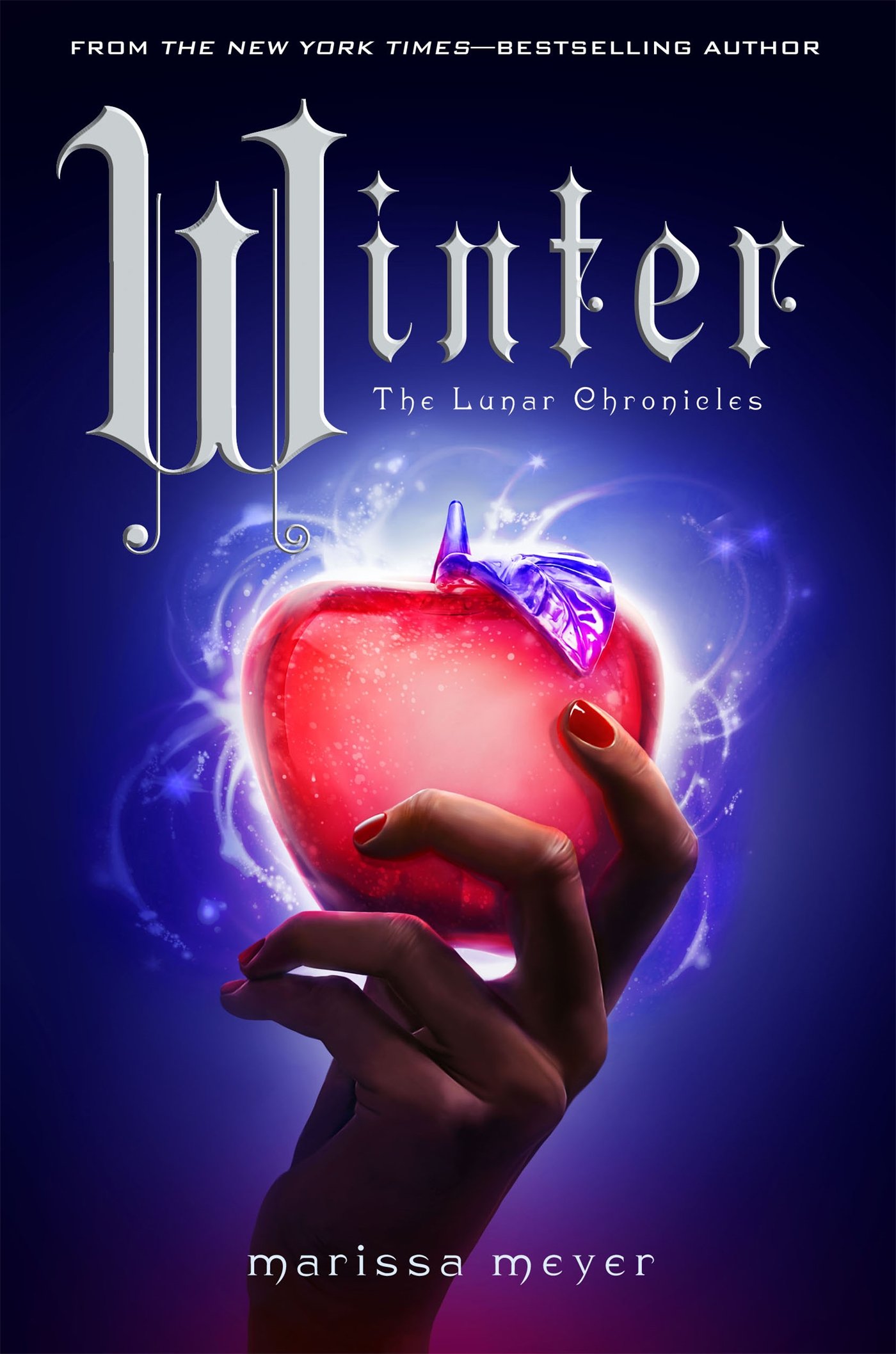 Princess Winter is admired by the Lunar people for her grace and kindness, and despite the scars that mar her face, her beauty is said to be even more breathtaking than that of her stepmother, Queen Levana.
Winter despises her stemother, and knows Levana won't approve of her feeling for her childhood friend - the handsome palace guard, Jacin. But Winter isn't as weak as Levana believes her to be and she's been undermining her stepmother's wishes for years. Together with the cyborg mechanic, Cinder, and her allies, Winter might even have the power to launch a revolution and win a war that's been raging for far too long.
Can Cinder, Scarlet, Cress and Winter defeat Levana and find their happily ever afters?
We finally made it to the end of the series, and I promise I did finish it before the end of May. I just haven't had the time to blog about it.
Finally after so many mentions of her in previous books, we are finally introduced to the Princess Winter. And she is just as beautiful, but sadly just as crazy, as I had expected. After years of refusing to use her Lunar abilities, she has slowly been driven insane. Poor Winter can't really catch a break, as not only does she have her own shit to deal with, but she has Levana as a stepmother.
We pick up a few weeks after the end of Cress. Cinder and her crew, now including Prince Kai, have come up with a plan of how to overthrow Levana and are putting the necessary steps in place to begin their revolution. Cinder and Kai have reconciled officially, with Kai even calling Cinder his girlfriend. Thorne is slowly regaining his sight, and Cress is slowly recovering from her crush on him though she still gets jealous when he flirts with any woman he sees. Wolf is still pining for Scarlet, who the crew haven't been able to rescue from Lunar yet.
Levana's plans for world domination, starting with the attacks of the wolf army under her control introduced in Scarlet on the palace in New Beijing force our heroes to put their plans into motion. Kai returns to Earth, explaining he was set free by his prisoners once he had assured them he would never marry Levana, but quickly goes to Levana and asks for her hand in marriage once more. He tricks Levana into agreeing to host their wedding on Lunar, but it's still very clear she has a plan up her sleeve. We just have no idea what it is yet but I was excited to find out.
The plan goes to shit pretty quickly, as it always does because I'm pretty sure our heroes underestimate Levana and her paranoia. As they hide in Kai's ship in the Lunar dock, Levana sends in guards to find any stowaways. The group get separated, Cress sacrificing herself so the others can get away. Our heroes then have to scramble for a new plan, fragments of their original one thrown in. They intend to reveal to Lunar that Cinder is the lost Princess Selene, and she will ask them to rise up against the oppression under Levana's thumb. Personally, I think that's a really silly plan with a lot of holes. I was disappointed at the lack of finesse.
I did enjoy that everyone played a part in the book. All the heroes had their moment to show their allegiance, show their strength. Scarlet and Winter rallied the wolf creatures to fight for Cinder, Jacin choose to free Winter and Scarlet, and helped Cress hide from Levana. Wolf managed to overcome Levana's mild manipulation after his capture. No one was really forgotten, and it was a nice touch.
Winter was a very interesting character, who I enjoyed. She was so fragile, but there was a strength bubbling underneath. She was a hero, with a truly beautiful heart. Her relationship with Jacin was quite sweet too, as they have been friends since they were children. He has always felt like he was her protector, as he was a few years older. That need to protect her has only strengthened over the years, as they have both fallen in love with each other. Of course, he has to be difficult and never tell her that's how he feels. Jacin is a little bit annoying at times in this, but his interactions with Winter make me forget that.
The ending was lackluster, sadly. The entire book was, sort of, now I look back. It wasn't that I didn't enjoy it, and it did feel like this was always going to be how the series ended, but it just took a long time to get there. Winter is more than 800 pages, after all. There was just a lot of talking, when this book should have been more action.
The final confrontation between Cinder and Levana was lots of talking too, most of their interactions were in this book. It took a lot away from the suspense.
And then at the very end, once Cinder has been crowned Queen, she announces she will dissolve the monarchy? After all of that, she'd do something so ridiculous? I understand her intentions - she doesn't want another tyrant rising up and taking power - but people like Levana aren't just in royalty. They can be politicians, they can be anybody. If they want to abuse a system, they'll find a way to. Removing the monarchy, the one beacon of hope her people have to rebuild their broken planet, seems like the wrong decision, at least for the next few decades.
But let's focus on the happy endings, which were a stable in this book. Kai has to return to Earth, as he does have a country to run, but he and Cinder part with the intention of marriage sometime soon. I'm glad they got their happy ending, as I did really enjoy them together. Thorne and Cress are finally on the same page, finally admitted their true feelings, and heading off to travel Earth, something she's always wanted to do. The growth Thorne has gone through because of Cress is adorable, and if you've been reading my other reviews you can tell I have a real soft spot for him. Scarlet and Wolf are returning to her farm in France, to a quiet and simple life that both of them will benefit from after what they witnessed in the war of Lunar. Scarlet was pretty awesome in this book, and I no longer see her as the weakest member of the team. Winter and Jacin express their feelings for each other, and start to plan a very happy life together. It was a fitting ending in that respect, for a book series based on fairy tales.
The Lunar Chronicles was overall quite a good series, and I would love to see it adapted into a TV show or something. I think the format would work well, particularly with the strong female leads. My favourite book will remain Cinder, but I did enjoy how much bigger the world became. Well done, Marissa Meyer.