As Shredder joins forces with mad scientist Baxter Stockman and henchmen Bebop and Rocksteady to take over the world, the Turtles must confront an even greater nemesis; the notorious Krang (from IMDb).
What better way to start the summer and enjoy the warm weather (for London, at least) than by spending hours inside a darkened cinema?
Teenage Mutant Ninja Turtles
were an important part of my childhood, and when the reboot series was announced I was excited. I kept telling myself I would only be disappointed, because it was Michael Bay as he has a way of making things overly-ridiculous. But when I sat down and watched the first
TMNT
movie, I remembered how ridiculous it all was. I mean, they're talking turtles after all. I did enjoy the first one, so was happy to go see
Out of the Shadows.
This movie is the perfect Turtles movie. It stays true to the old TV show, it is funny and endearing and action-packed. I know there are lots of bad reviews for this movie, but I personally thought it was great. I mean, have those reviewers not seen the other attempts at Turtles films? Such as Teenage Mutant Ninja Turtles II: The Secret of the Ooze?
Following on from the previous film, the Turtles are still hiding their identity as crime-fighters, and Shredder is in prison serving his life sentence. April is (apparently) still a news reporter (though you only see her in any sort of work capacity at the end of the film), and investigating the Foot Clan, who went underground after Shredder's capture. The events of the movie really only start in motion with the transfer of Shredder to a new prison. I mean, if you have him secure why would you transfer him at all? It's only inviting trouble, and trouble does come knocking when the Foot Clan arrive to rescue their leader. Despite the efforts of prison guard, Casey Jones, and the Turtles Shredder does escape. When Shredder encounters Commander Krang, a creepy talking brain creature with a robotic shell, he recommences his plan of talking over the world by opening a portal to another dimension and bringing Krang's warship, the Technodrone, to Earth. That's right - it does sound mad, doesn't it? The first film tried too hard to be serious, but Out of the Shadows embraces the ridiculousness of the original series and just rolls with it. It does work, and I did really enjoy watching it.
Stephen Amell as Casey Jones was great casting, and he brought a lightness and likability to the character I thought they'd lose. He had a chemistry with Fox's April, which I'm glad of as they were always a pairing I enjoyed. April carried herself well in the film, actually being useful for the majority, though she did wear heels far too often despite the amount of running she was required to do. Surely she'd learn if she was trying to sneak into buildings undetected to not wear loud shoes?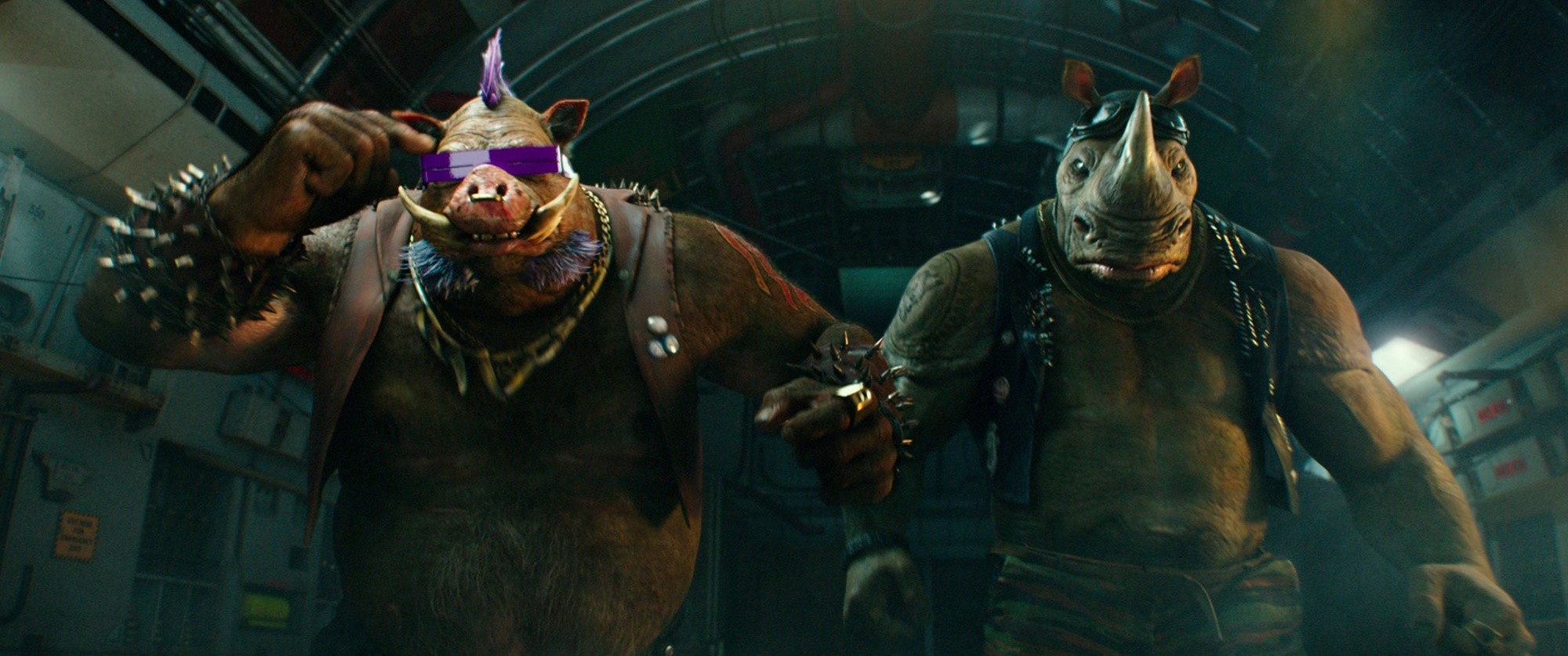 There were so many nods to the original series in this, such as the Turtle Van (which was awesome) and the introduction of Bebop and Rock Steady, two criminals who work as Shredder's muscle. They were always stupid henchmen, but in the film they have a sweet sort of friendship despite being complete idiots.
I really feel like Out of the Shadows shows the new Turtles series had finally found its feet, and its niche. These movies are meant to be silly, and I did have a good time watching this. There are lovely messages about accepting who you are, doing what you love, and brotherhood. You can always rely on the Turtles films to teach you to get along with your siblings.