The story of the physicist Stephen Hawking and Jane Wilde, the literature student he fell in love with while studying at Cambridge in the 60s (from Wikipedia).


Before this film, I'll admit to not knowing much about Stephen Hawking. I knew he was brilliant and had a rare form of motor neuron disease. I had no idea he'd been married, twice I might add, or had children.
The film is based on Jane Wilde's autobiography and spans the thirty-something years she spends as Hawking's wife, sharing their incredible battle against his motor neuron disease diagnosis. They meet whilst both at university in the 60s and, despite their clashing interests and beliefs, fall madly in love. The depiction of their blooming romance is adorable; there's no other word for it. Their naive bubble of happiness is quickly shattered by Hawking's physical deterioration and diagnosis. From that moment on, nothing is ever the same and their relationship changes from something innocent to something far more grown-up, as they both believe they only have two years left together. At the time, two years was the average life expectancy for someone once they were diagnosed with motor neuron. Today it ranges from six months to five years, and there is still no cure.
As the film goes on, we see the progression of the disease and the effects they are having on the Hawking family. Hawking and Wilde have had children, have both continued with their studies and are continuing with their lives as much as they are able. Their strength to continue on, despite their difficulties, is rather inspiring and quite heartbreaking. I have no idea what it's like to see someone you love deteriorate before your eyes, but I can imagine it is one of the worst things anyone could ever experience, so I applaud Wilde for staying at Hawking's side for so long.
I admire Hawking for continuing to do what he loved, developing his theories, and became the brilliant man the world knows today. I was very sad at the end when Wilde and Hawking decided it was time to go their separate ways, as they had struggled so long and fought so hard. But sometimes things just don't work out, and love and shared experience can't fix something broken beyond repair.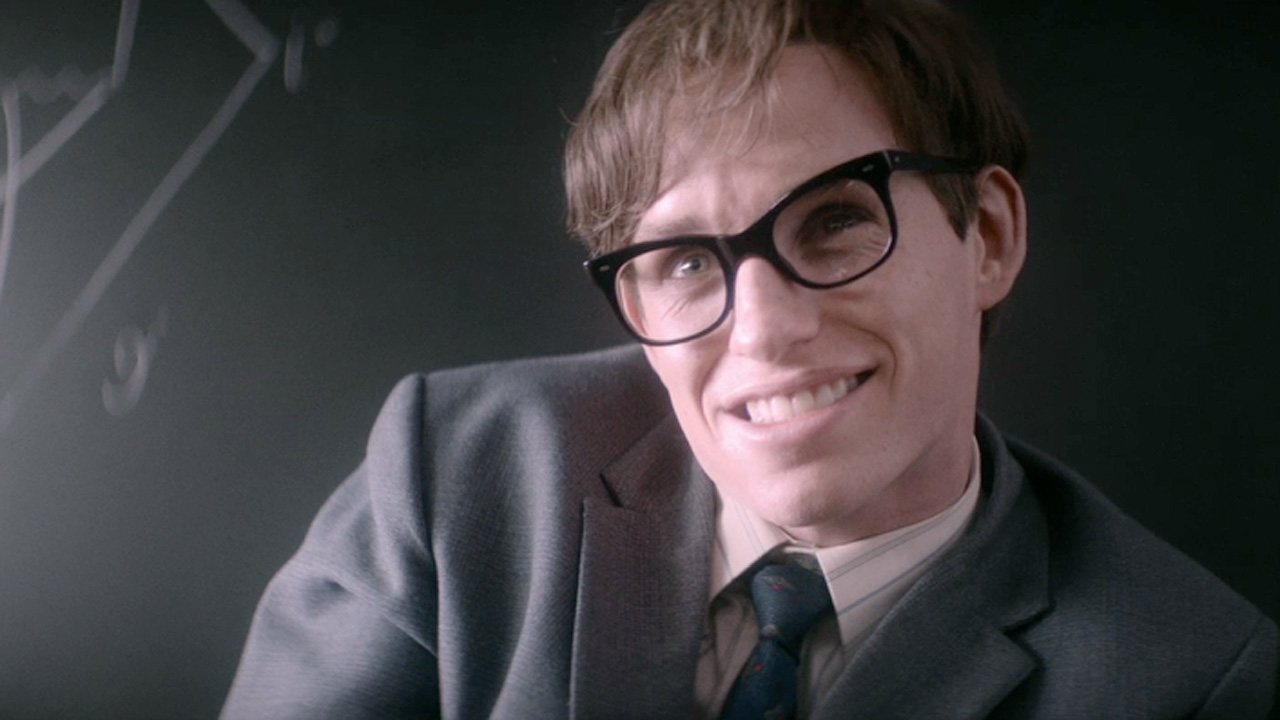 The cast was perfectly chosen, and Redmayne and Jones were superb in their roles. They convey love and grief, and to an extent resentment, wonderfully. Redmayne himself gives a stellar performance as Hawking, flawlessly showing the physical deterioration Hawking experienced. The cast itself was very small, I felt, with only a few faces popping up here and there to help move things along, but the film focused on a marriage. That decision made things feel incredibly raw and intimate, so was a very good choice and helped me engage with their story. It would have dampened the emotions and the flow if there had been too many characters clogging the screen. The soundtrack was beautiful and perfectly tailored to the film, so a very well done for that.
I don't really know what I was expecting when I saw this, but it defied expectation regardless. It is a true work of art and I'm glad it got the recognition it and its cast deserved. What The Theory of Everything made me see is that you never know what life is going to throw at you, but you should never let it stop you living life to the full.