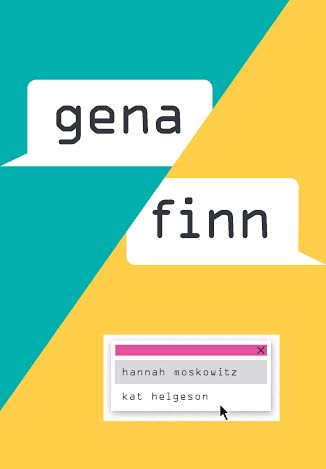 Gena/Finn
by Kat Helgeson and Hannah Moskowitz
The story following the unlikely friendship of two young women forged via fan fiction and message boards, and is told entirely in texts, chats and blog posts (from Goodreads).
Since reading Where Rainbows End, I've had a soft spot for books told through notes and messages, and this one seems pretty cool. From what I gather it focuses on the growing romance between Gena and Finn, and the conflicted feelings that ignites. It could be a sweet, yet angst-riddled, book.
Released: 5 April 2016
As I Descended
by Robin Talley
A retelling of Macbeth set at a contemporary Virginia boarding school, it centres around a lesbian couple who set out to dethrone the school's resident Mean Girl, only to find themselves struggling to hang onto their sanity and their lives when they accidentally summon a trio of brutal, manipulative ghosts (from Goodreads).
Macbeth has long been my favourite Shakespeare play, and I do like to read retellings and see how people have interpreted the story. Sometimes I approve, and sometimes I don't, but this does seem like it could be good.
(P.S. this isn't the book artwork. It hasn't been released yet, but I just can't leave a blank space cause it doesn't look right)
Released: Summer 2016
Lady Midnight (The Dark Artifices #1) by Cassandra Clare
Raised in the LA Institute with the Blackthorn family, Emma is paired as a parabatai with her best friend, Julian Blackthorn. A series of murders in the city catch her attention - they seem to have the same characteristics as the death of her parents. Could the murderer be the same person?
And her attention isn't the only one caught: someone has been murdering Downworlders as well. The Fair Folk make a deal with the Institute; if the Blackthornes and Emma will investigate the killings, they'll return Mark Blackthorn to his home. The catch: they have only two weeks to find the killers, otherwise it's open war between faeries and Nephilim (from Goodreads).
I read everything Cassandra Clare publishes, in the end. And since this is linked to the Shadowhunter world, of course I'm going to read it. I'm excited to see more of Tessa and Jem, cause a lot has changed since The Infernal Devices trilogy. I wish The Last Hours trilogy, set twenty or so years after The Infernal Devices books, was the one coming next, but it isn't, so I'm sure this will satisfy me until 2017.
Released: 8 March 2016
Untitled (Throne of Glass #5) by Sarah J. Maas
The long path to the throne has only just begun for Aelin Galathynius. Loyalties have been broken and bought, friends have been lost and gained, and those who possess magic find themselves at odds with those who don't. As the kingdoms of Erilea fracture around her, enemies must become allies if Aelin is to keep those she loves from falling to the dark forces posed to claim her world. With war looming on all horizons, the only chance for salvation lies in a desperate quest that may mark the end of everything Aelin holds dear (from Goodreads).
I love this series, and am excited to see where our characters have gone since Queen of Shadows. To me it sounds like

there might be a time skip in this book from the last one, but I'm not that sure. It doesn't really matter; I'm sure I'll enjoy it whatever it is.
Again, no artwork yet, so here's a fan art photo of our heroine instead.
Released: 8 September 2016
Remembrance (Mediator #7) by Meg Cabot
All Susannah Simon wants to do is make a good impression at her first job since graduating college (and becoming engaged to Dr Jesse de Silva). But when she stumbles across an ancient murder, old ghosts - and ex-boyfriends - aren't all that come back to haunt her (from Goodreads)
Loved the Mediator series growing up, and now I'm getting the chance to see how things all worked out for Suze and Jesse. Meg Cabot really knows how to satisfy her readers, giving them both insight into her characters' futures but also provide the right amount of closure.
Released: 2 February 2016
A Gathering of Shadows (A Darker Shade of Magic #2) by V.E. Schwab
Kell is plagued by his guilt. Restless, and having given up smuggling, he is visited by dreams of ominous magical events, waking only to think of Lila. As Red London prepares for the Element Games - an extravagant international competition of magic - a certain pirate ship draws closer. But another London is coming back to life, a shadow that was gone in the night reappears in the morning. Black London has risen again - and so to keep magic's balance, another London must fall (from Goodreads).
The first book in this series was rather fantastic. I loved the idea of different Londons all existing, with different histories of magic to tell. Kell was a great character; a bit snarky, but brave and loyal. Lila was a character I had some reservations over, but she might have become less annoying since her travels.
Released: 23 February 2016
London, April 1812. On the eve of eighteen year old Lady Helen Wrexhall's presentation to the Queen, one of her family's housemaids disappears - and Helen is drawn into the shadows of Regency London. There, she meets Lord Carlston, one of the few who can stop the perpetrators; a cabal of demons infiltrating every level of society. Dare she ask for his hekp, when his reputation is almost as black as his lingering eyes? And will her intelligence and headstrong curiousity wind up leading them into a death trap? (from Goodreads).
This was released in the US sometime at the end of 2015, but isn't coming out here in the UK until 2016. A friend of mine explained this book to me as Buffy meets Jane Austen, and that really sounds like an intriguing concept.
Released: 23 January 2016