Focuses on time-travelling rogue Rip Hunter, who has to recruit a rag-tag team of heroes and villains to help prevent an apocalypse that could impact not only Earth, but all of time (from IMDb).
The CW has seem to hit the right note with their adaptations of DC Comics of late, and so have decided to expand the Arrowverse with
Legends of Tomorrow,
a show packed with superpowered characters. It seems like the CW is attempting to create their own Avengers-style team, but I really don't mind because this show surprisingly works. As tagged in the labels, there are spoilers below.
When I first saw the trailer and began reading up on the concept for the show, I laughed a little. It seemed like such a messy idea, too ridiculous to carry any sort of plot past explosions and cool fight scenes. That's always what annoys me about the Avengers movies, and while I do enjoy them at the time I don't walk away satisfied. If that's what Legends of Tomorrow had given me, I wouldn't be tuning in every week cause it wouldn't be worth it. Luckily, the writers have gone for substance over pure action.
The pilot is split into two parts, meaning we get a real insight into the world of the show and each character gets some time to shine. The first hero we're introduced to is Rip Hunter, our rogue time-traveller, played by Arthur Darvill. He seems like a broken and complex character, but also feels a lot like the Eleventh Doctor meets Jack Harkness, what with the brown trench coat and the whole 'from the future' thing. That's really not a bad combination; it makes him sassy and dramatic. It just makes it harder to stop myself thinking Rip's name is Rory, as Arthur Darvill played him in Doctor Who. I think as time goes on, the show will be able to establish him as his own character though.
The team Rip puts together to help save the world consists of eight members: Sara Lance, Leonard "Lenny" Snart, Dr Martin Stein, Ray Palmer, Jefferson 'Jax' Jackson, Mick Rory, Kendra and Carter Hall. All these characters have seen introductions or story arcs within either Arrow or The Flash, so long-serving fans of these shows don't really need introductions. So instead, the way the characters are welcomed to the show feels half an introduction and half a catch-up on where their stories left off. I appreciated this, because it didn't seem convoluted and didn't waste time. I didn't remember all of the characters, and I'm not completely up to date on The Flash so for a few of them, this was the first time I was meeting them. But I feel like I was told all I needed to know about them for the pilot to flow well.
The pilot opens with London burning in 2166. Vandal Savage, a power-hungry immortal maniac, has just achieved conquering the world, and to punish Rip Hunter he murders his wife and child. Like the typical villain plan, it's a short-sighted punishment as this, of course, spurs Rip to go to the Time Masters (again, reminiscent of the Time Lords) and implore them to fight back against Savage and save the world. They refuse, believing it's not up to them cause they're idiots, so Rip goes off to find a way to stop Savage without them.
He kidnaps the others and brings them all together, to tell them it's their destiny to save the world. With a new sense of purpose, they all agree to help him stop Savage. Things don't really go to plan, Savage revealing himself to be a far more deadly enemy than expected. It's the typical plot - a rag-tag team of misfits coming together to defeat a villain and clashing along the way - but this has some embellishments, and some heart wrenching moments, that make it worth the watch.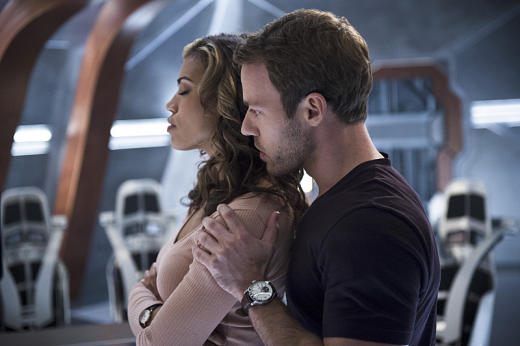 I was really excited to see the story of Carter Hall and Kendra Saunders finally shared, because their story has fascinated me since his character's appearance all those years ago in Smallville. Their love story, the curse of being reborn and dying, always had such an intensity for me. Such a complex romance would have been so beautiful to watch, but I should have known it wouldn't last long. The thing about their story is it never ends happily, they never get their happy ever after, so I don't know why I was expecting it. I guess it was the death of Aldus Boardman, the son of Carter and Kendra from another of their lives, at the end of part 1 that lulled me into a false sense of security that they'd at least get a season together to tell their story. So it felt a little like my heart was ripped out when Savage killed Carter. The fact I got attached to these characters so quickly shows they were written well, a good sign for any show in my opinion.
And the move proves to me
Legends of Tomorrow
is something I need to keep watching, because it will do the unexpected, keep me on the edge of my seat.
So all in all, I'm rather hooked. Hopefully this show continues to surprise me, but I want as many good surprises and shocking ones. I want Kendra to stop hurting, and I want her to kick Savage's ass. I want to see Sara and Lenny to become BFFs, cause they have such platonic chemistry in that bar scene in part 1. I don't feel we really got to know Jax too much, who simply delivered funny lines and played off well against the older Martin, so a little more character development for him would be good. And I just want some more moody Rip. Let's see what happens for the rest of the season, but it's very promising indeed.